Success Suite Program #1: Local Search Marketing Secrets with Tim Cooper
If you can turn on a computer, open a browser, and type... you can take advantage of this powerful FREE strategy! If you're not showing up in the local search results, then you're losing money and valuable business. If your customers can't find you, they'll simply purchase from someone else... your competition!

Search beats social media by more than 300% as a traffic source (imForza) 97% of search engine users searched online to find local businesses. 72% of consumers say search is their first choice to find information on local merchants. 92% of searches will pick businesses on the first page of local search results.

If you're struggling to attract new business, it's highly likely you've got a visibility problem. Not a problem with your products and services.

The only way to grow your business is to be seen. Make sure you're getting your business in front of your prospective customers when they need you the most. When they are actively looking for a solution to their problem.

The solution is setting up a FREE Google Business listing. Setting it up correctly is essential in order for it to work for you 24 hours a day, 7 days a week, 365 days a year.
I figured out how to:
Ensure my business profile was relevant to my ideal clients.

Use the major business directories to boost internet exposure.

Ask for reviews without fear of rejection or ending up with a negative review.
Because I discovered the secret source to get my business listed in the top results of Google search for free, I was able to:
Relax and stop worrying about where my next client was going to come from.

Utilize the power of Google local search to generate a steady stream of new clients.

Help other local business owners harness the power of Google to grow their businesses for free.
And that's why I'm so passionate and excited to share "Local Search Marketing Secrets" with you, so you can experience the same success and feeling of achievement in your wellness business too!


This course is going to show you how to avoid common mistakes so you can do it right the first time.


If you're a business owner wanting to rank highly in Google local search and attract more customers understand this: Every day you're not appearing at the top of the listings is another day you lose more customers to your competition.
Here's What The Local Search Marketing Secrets Course Will Do For You: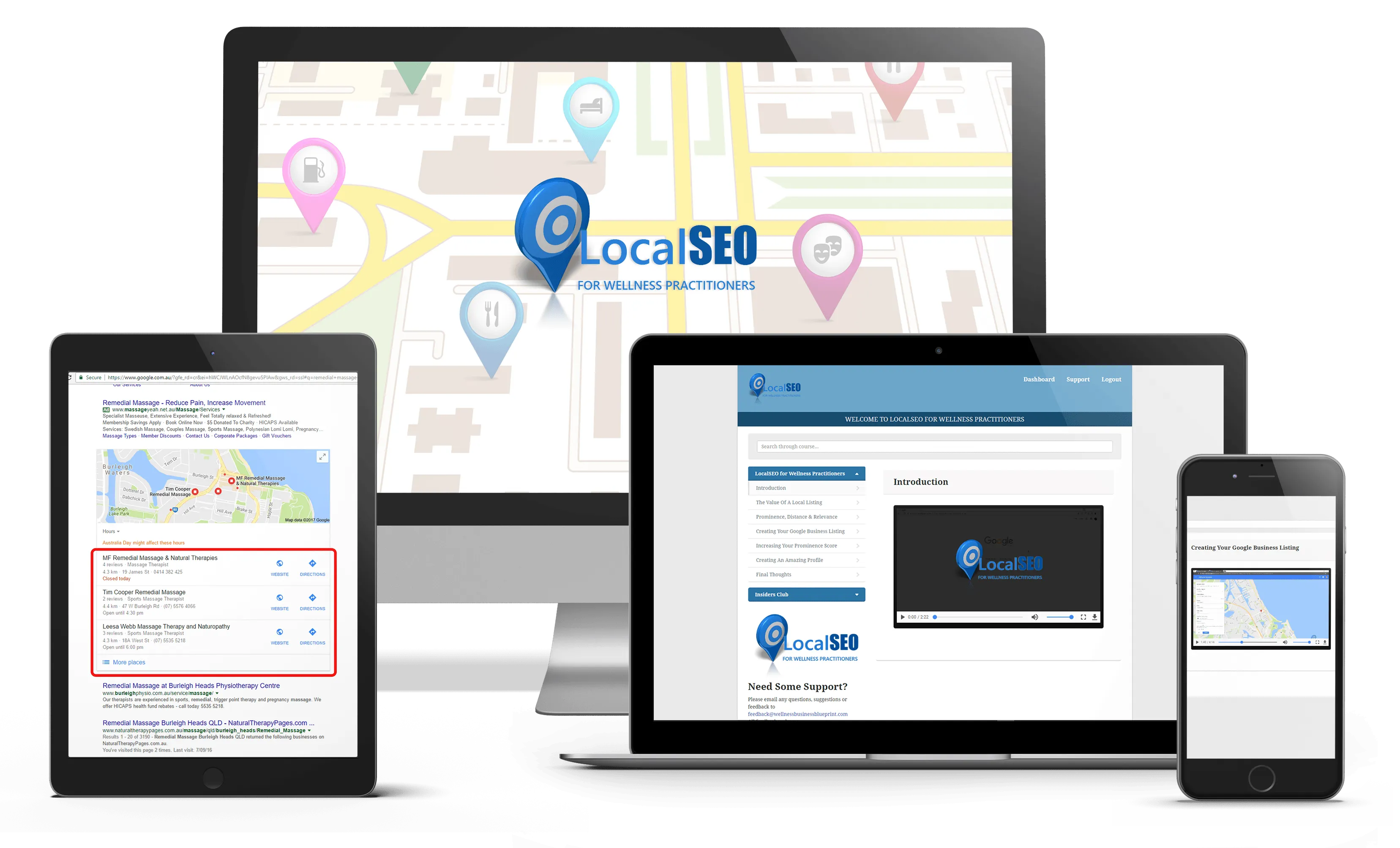 You'll discover the simple steps to increasing your business listings visibility. (Getting seen equals getting customers )
Google for business is free. (You don't have to spend hundreds and thousands of dollars on paid ads)
You'll know the best and quickest way to get your business ranking high in the listings. (You can skip straight past all the mistakes most people make when setting up their business listings.)
I'll show you exactly what you need to do and why (even if you're not computer savvy)
When you see your business appearing at the top of the Google listings for your area, think about how good you'll feel about yourself when the phone starts to ring and the leads your listing generates start rolling in.

Imagine all the extra income you'll be making as prospective customers start seeing your listing! Appearing at the top of the listings in Google is no small feat, just picture the looks of envy your competitors will give you.

When you enroll you get access to an online members area where you can access the training material anytime you like. Step-by-step videos guide you through the entire process from start to finish. You will get everything you need to know to get your business ranking in local search!
TOTAL VALUE: $797
TODAY ONLY $197

No, I don't want this massive 75% discount.
Success Suite Program #2: Perfectly Booked with Gael Wood
Learn EXACTLY how to rebook massage and spa clients!

Are you struggling to build up your massage or skin care practice? Do you wish clients would rebook effortlessly without an awkward conversation that leaves you feeling "salesy"? If this is you, I can help!

Hi! I'm Gael Wood, when I started out as a massage therapist 20 years ago I didn't know what to say to get my clients re-booking and referring. I just couldn't figure out why my clients weren't rescheduling, even though everyone said my massages were excellent. I had to figure it out, or get a new job! I've spent many years and thousands of dollars learning business-building strategies. Now let me help YOU build your dream business.

Did you know the most common reason clients don't come back has nothing to do with the services? It's true! Usually, it's small details that were overlooked or they were simply not invited back. Don't let your clients leave unhappy or wondering what they should do.
In Just Ten Actionable Lessons The Perfectly Booked Ecourse will show you how to:

Rebook massage and spa clients and get a constant stream of referrals like a pro!

Kick old beliefs to the curb and learn exactly what to say, when recommending service and treatment plans to clients.

Rebook massage and spa clients and get a constant stream of referrals like a pro!

Expertly consult with clients so they feel heard, and re-booking is a breeze.

Customize all of these materials to your personality, and business. There is no need to feel fake scripted or like a salesman!

Learn the important actions you can take during the treatment to make sure your clients are 100% completely comfortable and relaxed. Plus, details that will set you apart from other therapists, and turn any room into a luxurious spa!

Overcome fear and quickly build a loyal clientele and secure income.
10 content rich lessons with, audios, videos, action steps, and done for you scripts & planning guides, plus checklists and more! (it's all done for you)

A PDF download of the class materials to keep forever!
Turn your clients into raving fans that refer, rebook and can't wait until their next appointment!

Who should take this course?

Any Massage Therapist or Esthetician who is ready to take action, learn new things, and build a great business!

I work for somebody else, will this class still help me?

Yes! It doesn't matter where you work, a full schedule still means a great paycheck. Plus, you will be in the front of the line for raises and job security with all of your new skills. You can start this class anytime.

Don't spend another minute wondering why clients don't come back or if you will be able to pay your bills. Take action now, here are the tools to take control!
TOTAL VALUE: $797
TODAY ONLY $197

No, I don't want this massive 75% discount.
Success Suite Program #3: Massage & Spa Client Attraction Boot Camp Home Study Course
Are you just starting out in your business? Maybe some of your regulars have dropped off? It happens...

If you tired of working SO HARD, and just barely getting by, this course is for you! Building a clientele can be challenging, especially if you are on a budget. Sometimes it's hard to figure out what to do next... Let's do this together! And get your ideal clients on the in the door and on a regular schedule.

If you are ready to learn the tools to market your business, fill your appointment book with your IDEAL clients and make more MONEY, this live online class is for you!
TOTAL VALUE: $797
TODAY ONLY $197

No, I don't want this massive 75% discount.